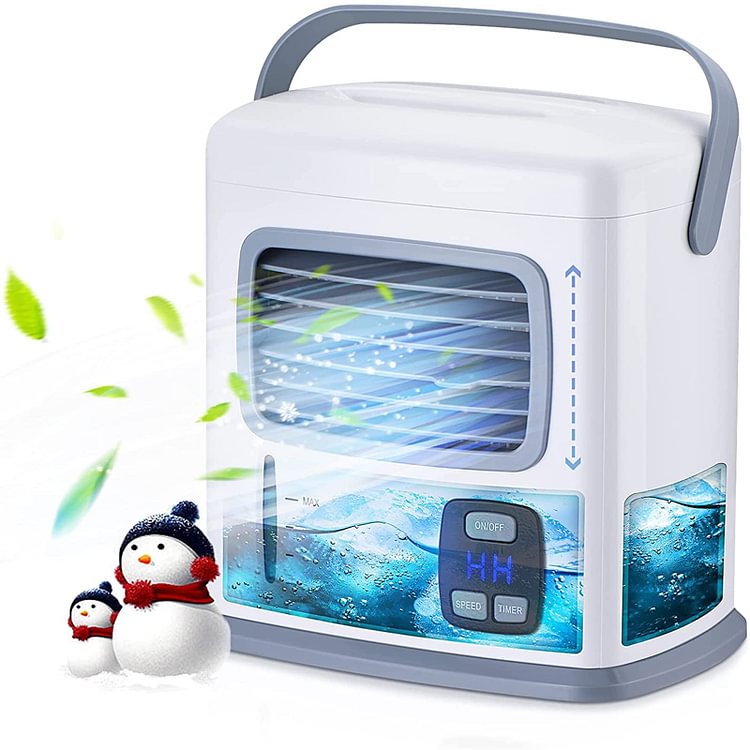 3 in 1 personal air conditioner fan cooling the air for you anytime!
Be cool this summer no matter where you are with our multi-functional air cooler!
Upgraded 3 in 1 Cooling Air Conditioner
The office is too hot and the traditional air conditioner cannot cool down? You need a water-cooling portable air conditioner! 3 choices are easily provided for you: 1.A fan without water 2. A humidifier w/ water 3. A personal air conditioner w/ iced water! Passing through the evaporative air-cooling filter, the hot air is cooled to become cold air rapidly in just a few seconds. No longer worry about hot summer again!

Portable Everywhere & Compact Design
Can't you bring the air cooler fan outdoor due to the large size? You can lift a 1.5lbs portable water cooling fan w/ a portable handle. Take it anywhere to fast cool down and no longer restricted by wire w/ 2 ways of power supply. The air cooler can be powered up by 4 AA batteries or USB charging. The humidifier can be plugged into the laptop, power bank, or car cable. Ideal for bedroom, kitchen, office, outdoor, and any place you need cool in summer.
500ML Large Capacity Water Tank & Leak-proof Design
Worried that water leakage will damage your laptop? Don't worry, the upgraded leak-proof & large-capacity water tank will solve your problem! 500ML water tank provides a long run time of 6-8 H. A larger water inlet on the top with the updated design of the bottom water tank makes it easier to fill in water. The moldless filter won't be moldy and is easy to clean. Come on and enjoy the cool summer easily!

Adjustable-angle Air Cooler Fan & Quiet Design
Flexible design to meet your needs! Manual adjustment for blade up and down to change the wind direction, and adjust it to the most suitable model for you. Working volume of less than 45 dB, providing a silent working environment and a comfortable sleeping ambiance. No matter where you are, you can stay cool this summer with our versatile air cooler!

12H Timer & Electricity Saving
Are you always forget to turn off the air conditioner at night and face high electronic bills? Let's pay fewer electricity bills with this evaporative cooler! Design with 12 Hours timer function to make it more at ease before your work or sleep, without worrying about the air cooler not turning off anymore. Only 5W low-power performance achieves high-efficiency refrigeration. Feel more cool and fresh air this summer with a personal mini air conditioner.

Note 
1.Before cleaning the unit, please power off the unplug the appliance 2.Do not touch the power supply or power cord with wet hands 3.Do not carry Air Cooler when filled with water 4.Do not place the product at an angle
Product information
Color White Personal Mini Air Cooling Fan for Home Room Desk
Item Dimensions LxWxH 7.09 x 5.71 x 7.87 inches
Wattage 5 watts
Material Plastic personal conditioner fan with 12h Timer
What's in the box

1x 3-IN-1 Personal Mini Air Cooler Fan
1x USB Line